Our history
NETIM was created in France in early 2004 by a team who was passionate about information technology. It obtained accreditation in Belgium, France and Switzerland in order to manage domain name registrations for the French speaking market.

The launch of the European .EU extension in 2006 was the turning point and NETIM launched its services onto the European market in English and started obtaining accreditations in other countries.

In 2009, NETIM launches its reseller program to allow Internet industry players to register and manage their domain portfolio with a high-quality service. The same year, NETIM became ICANN-accredited, which allowed the company to be recognized as a real registrar, along the most renowned ones.

2014 has seen the second expansion with the launch of new generic TLDs. Thanks to a new optimized website, more than 600 extensions are now part of the offer.
NETIM is based in Lille near EuraTechnologies. With this strategic location, NETIM challenges itself to offer, in the short term, every extension in the world to cover the growing needs of its customers.

Web services are not left behind with offers that have expanded over the years and solutions that cover most projects. NETIM is a member of RIPE for the allocation of IP addresses in Europe.

The company remains independent and under the control of its founders who are careful to preserve the values and commitments that have made its successful.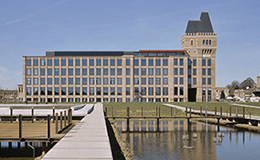 What are our values?
A clear pricing and services
We do our best to earn your trust by providing you with the best product or service at the right price.

Among the values we want to convey, there is transparency and honesty. We practice round price and banish psychological prices such as 9,99 €. Similarly there are no hidden charges and each product can be ordered independently from each other. In other words, the customer can have its domain name with another registrar and have a messaging solution with NETIM and vice versa. We do not impose the purchase.
Quality of service
Relationship with the customer is the heart of our business. Nowadays domain names providers lead a fierce battle on the price, we do not sell at a loss and we do not use domain names as a call product to sell other services or our customer file. We are not looking for quantity but quality to satisfy our most demanding customers.

Our customers are individuals, SMEs and large companies, associations, institutions, major schools and universities. All trust us today to manage their portfolio of domain names and we treat them all the same way.  

Our approach and our mind can be summarized as: simplicity and efficiency at the best price. .
Registry, Registrar, Reseller, whom does what ?
It is sometimes difficult to understand the differences between the famous 3Rs (Registry, Registrar and Reseller)
The registry
This is the organisation that provides technical and administrative management of one or more extensions. It may be independent or it may be supervised by a trustee authority such as the ICANN for generic extensions.

These organisations establish the registration and management rules and determine the domain names' evolutions that apply to every registrar and domain name owner. Usually, it is not possible for an end-user to register the domain name directly with the registry.
The registrar
This is a company accredited by the registries and allowed to market their extensions. The registrar is a technical and administrative intermediary between the end-user and the registry.

It is the only body that can make changes on a domain name especially its renewal. You should never pay a renewal invoice that was not sent by NETIM.
The reseller
Resellers are usually companies that do not have the technical or financial skills required to become a registrar or which have another primary business that only requires that they resell domain names to their clients.

This is often the case for web host providers, website developers or marketing / communication consultants.
And NETIM ?
As you have gathered, NETIM's transparency and quality objectives mean that it acts at the highest level of the hierarchy as an accredited registrar so that it does not have to use intermediaries and has a direct link to the registries. You can see a list of our registrar accreditations

Unfortunately, we are not able to obtain this status in every country due to local restrictions. In these cases, NETIM works as a reseller for local registrars with whom we have signed partnership agreements.