Become a domain name reseller with Netim
Our reseller program was designed with domain industry professionals in mind. Whether you're a domainer, a web agency, a law firm, an intellectual property consultancy or a Registrar, we have a solution for you.
The benefits of our reseller program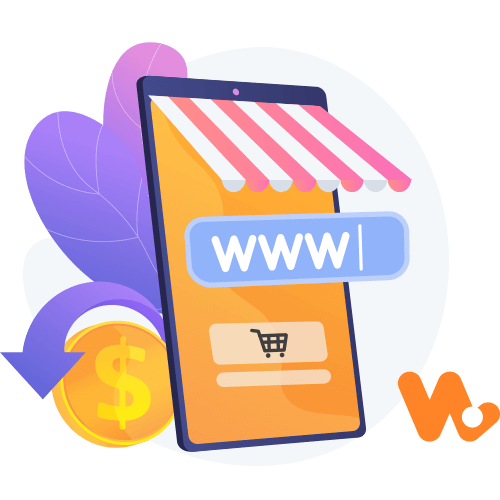 It's free: no purchase or no long-term commitment required
Access to 1,200+ TLDs including 450+ ccTLDs
Prepaid account and monthly billing
Reseller discount from your first purchase on
Most operations are processed in real-time, 24/7
Reseller price list
Here is an excerpt of your future price list. Reseller prices are equal to our purchase prices converted to euros, plus a 1 to 2 euros markup.

As a domain name reseller, you'll have access to domain names at near Registrar prices without having to shoulder the administrative and technical burden or cover accreditations costs.


Prices Excl. VAT, Premium domains fees, specific launch phases fees and optional services are extra
Modify
| Extensions | Description | Requirements | Registration period | Registration (per year) | Renewal (per year) | Transfer | Change of holder | Restore | |
| --- | --- | --- | --- | --- | --- | --- | --- | --- | --- |
A control panel, an API and modules are at your disposal
Three integrations solutions are available, depending on your needs and technical knowledge:
Netim Direct: easily and directly manage your domain portfolio
Our control panel was entirely overhauled and redesigned to perfectly suit your needs.
Netim Direct is constantly evolving: features are regularly added based on your feedback and changing needs.
We do not provide your clients with an interface. If you need complete Front and Back Office management, we recommend the WHMCS module.
API: SOAP or REST, the choice is yours!
Our API using the SOAP protocol (REST protocol currently in beta phase), allows you to offer all our services to your clients directly from your platform, without having to change your processes.
With a little development, you'll be able to sell our products under your brand with complete transparency.

Learn more about our API.
WHMCS: an all-in-one solution for client relationship management, billing and customer support.
Designed for hosting providers and Registrars, WHMCS is an easy-to-use and customisable module with multiple features.
What's more, you'll be provided with a Registrar module that allows for sales automation.

Learn more about our WHMCS module.
Frequently Asked Questions
First, you have to submit an application for a domain name reseller account. You'll receive a confirmation email with your login information once your account has been created.
As of now, resellers can offer all our products and services for sale: domain names, hosting plans and SSL certificates.
Customer satisfaction is our priority
Contact us
Please contact us for more information or to find out what services will suit you best.
Send a message