Brand protection - AdultBlock and AdultBlock+ blocking systems
The keywords porn, adult, sex and xxx are searched more than 300 million times a month.
Imagine what would happen if your brand or your company name were to be associated with one of these extensions, especially with adult content.
This practice is called "pornsquatting" and can be extremely damaging to your company's reputation.
Benefits of AdultBlock protection services
Here are the advantages of registering your trademark and/or company name (including your business name) as an AdultBlock/AdultBlock+:
Blocking of domain names on all 4 extensions and on all possible homoglyphic, typographic and IDN variants
Blocking of premium domain names (with high added value)
Automatic blocking of domain names that fall back into the public domain after being deleted by the Registry
Budget control: less expensive solution than defensive registrations (especially with the multiplication of possible variants)
Let's take an example with the trademark "societe" protected as AdultBlock+.
Here is an extract of the 451 protected terms on the .adult, .porn, .sex and .xxx extensions, generated by scripts and covering all risks: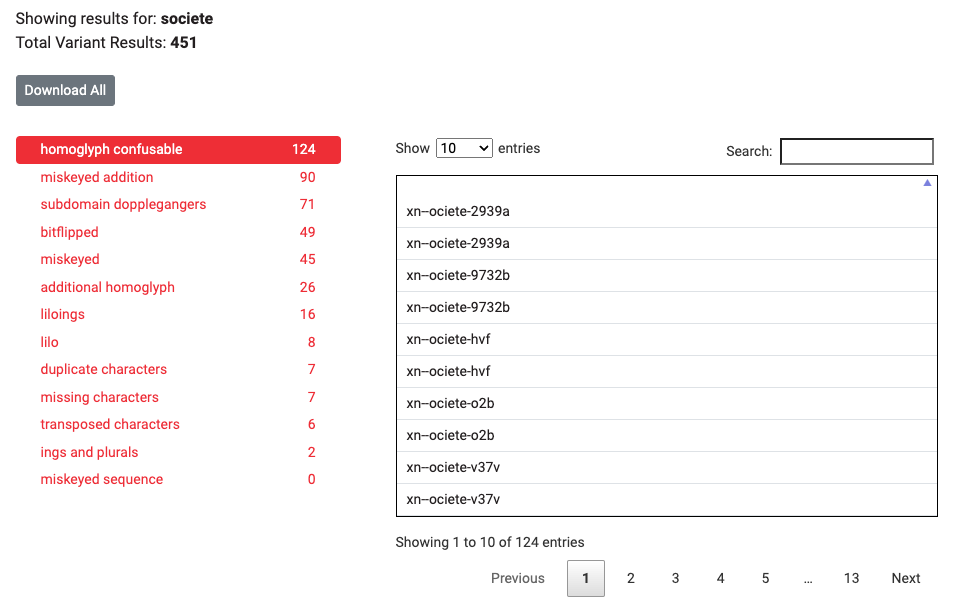 You can also download the complete list of terms blocked by the AdultBlock+ protection in our example.
Brand protection services you can subscribe to with Netim
AdultBlock and AdultBlock+
They allow you to block registrations relating to a trademark (registered or not in the TMCH) or a company name (trade name accepted) in the 4 adult universe extensions managed by ICM Registry: .adult, .porn, .sex, .xxx
AdultBlock
1, 3, 5 or 10 years protection period
Trademark, company or trade name protection
Exact match block
Premium domain block
AdultBlock+ option
Exact-match block for all variant labels contained in the SMD file (your trademark must be TMCH-validated)
Look-alike block: covers homoglyphs, misspellings, and IDN variants including characters from 24 languages (English, Belarusian, Bosnian, Bulgarian, Chinese (Simplified and Traditional), Danish, French, German, Hungarian, Icelandic, Italian, Korean, Latvian, Lithuanian, Macedonian, Montenegrin, Polish, Portuguese, Russian, Serbian, Spanish, Swedish and Ukrainian)
Comparison table of AdultBlock offers
AdultBlock
Product
AdultBlock
AdultBlock+
Registry
ICM Registry
Number of extensions
4
Duration
1, 3, 5 or 10 years
Premium domain block
Variant label block
TMCH registration required
How can I subscribe to a brand protection service?
Please contact our sales team to learn more about the eligibility criteria and subscription process.
Yes, you should ask your current registrar to communicate the ROID and the password/authcode associated with your AdultBlock or AdultBlock+ protection. When the transfer is finalised, a year is added to the expiry date of your protection.
Here is an example of the information that is visible in the Whois of a domain name blocked by AdultBlock or AdultBlock+ protection:

Whois extracted from the registry

Domain Name: mamarque.adult
URL of the ICANN Whois Inaccuracy Complaint Form: https://www.icann.org/wicf/
>>> This name is not available for registration.
>>> This name subscribes to the AdultBlock service.
>>> Last update of WHOIS database: 2023-03-24T15:05:13Z <<<
										
AdultBlock and AdultBlock+ will block all available domains that match, regardless of the price.
Once the domain name is deleted, it will automatically be added to the block as long as the blocking service is active.