What is an SSL certificate and how do I choose one?
Having an SSL certificate is crucial for any website. That's why all our hosting plans include a Let's Encrypt SSL certificate, best suited for personal use. For other uses, explore our range of professional SSL certificates and read our advice on how to choose the best SSL certificate for your website.
What is an SSL certificate?
Secure Sockets Layer (SSL) certificates are used to establish an encrypted connection between browsers and a website or server.
There have been several versions of the SSL protocol, the latest being TLS, which stands for Transport Layer Security.
SSL certificates guarantee the security of connections and the protection of sensitive data going through your website.
How to choose an SSL certificate?
There are two factors to take into consideration to answer this question:
1.

Types of SSL certificates

Our range of certificates was designed to suit the needs of all our clients, however different they may be.
With Netim, you can protect:
a single website
multiple websites (Multi-domain)
a website and all its sub-domains (Wildcard)
2.

Levels of authentication

In addition to the number of websites they can cover, SSL certificates also offer varying degrees of security.
DV (Domain Validation): only validates domain ownership

You'll be required to upload a .TXT file to your hosting control panel
Or created a TXT record in your zone file
A verification email is sent to either admin@yourdomain.com or postmaster@yourdomain.com

EV (Extended Validation):

Information regarding the company is checked and the certificate request must be verified over the phone
EV ensures the certificate holder and the company displayed by clicking the padlock icon in the address bar are one and the same.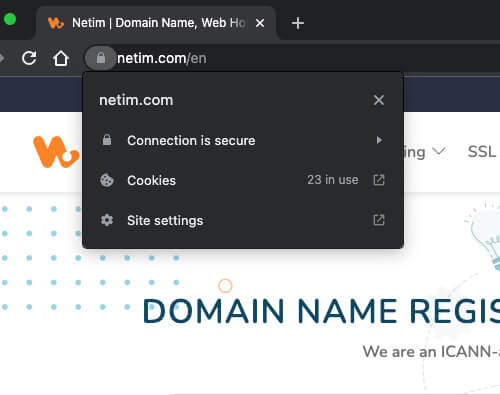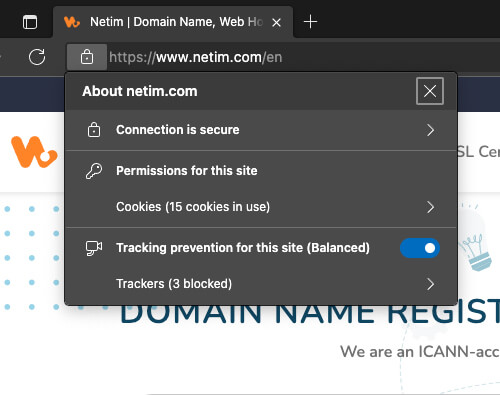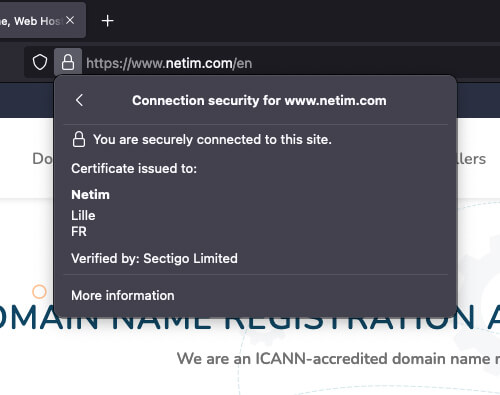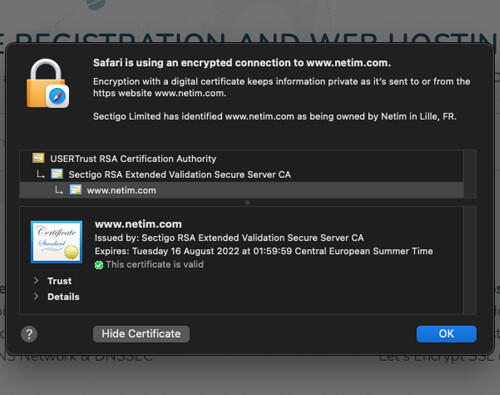 Why choose Netim to manage your SSL certificate?
Frequently Asked Questions
You can find out which Certificate Authority (CA) issued a certificate by clicking the padlock icon in your address bar. If you bought your SSL certificate from Netim, the CA will either be "R3 Let's Encrypt" or "Sectigo Limited".
Let's Encrypt is the CA which issues all the certificates included with our hosting plans. Sectigo is the market leader with global recognition as a reputable partner.
The purpose of SSL certificates is to secure connections between two systems. It can be identified by the "HTTPS" and the padlock icon at the right-hand (or left-hand, depending on your browser) of your address bar.
See how it is displayed on different browsers
SSL certificates can be compared to driver's licenses: they authenticate website owners and guarantee that what's being shown is legitimate.
The authentication process is made possible by a cryptographic key contained in the file you are provided with upon purchasing a certificate.
Customer satisfaction is our priority
Contact us
Please contact us for more information or to find out what services will suit you best.
Send a message