What is .TEL?
It is a generic extension dedicated to people and businesses who want to get a virtual address book \ e-card

This extension allows publishing all communication medias like phone numbers, email addresses, websites, addresses, etc., relevant to a person or to a company online without having a website.

Accessible in any event, the .TEL extension has undeniable advantages.
.TEL advantages:
An easy-to-use extension


It doesn't call for an hosting solution. Datas are stored into the DNS and a webpage is available for publishing them online. Thus, it is very accessible for people who know nothing about the subject !
Fill in and modify datas into a web interface, or a third party tool, is a child's game



An extension fast to be deployed


You just have to define and provide the contact datas you want to publish
The informations you are providing are updated in real time
The .TEL extension is perfect if you are owning a very small business and you don't want to manage a website.



SEO improvement


You are directly registered in a global directory and keywords/descriptions allow an improvement in your google's ranking
If you are a profesionnal, .TEL domain name is a perfect counterpart to your initial website.



Closeness creation


Regardless your status (professional or private individual), this extension is an excellent means to create closeness and proximity, and thus, link with the target you want to keep in touch.
Your name is becoming your virtual address book : you can be reachable all the time and everywhere
It is an attractive and dynamic way to give one's personal details.
How does it work?
The domain name which is different
The .TEL domain uses the Domain Name System (DNS) in a way that empowers .tel domain owners, whether businesses or individuals, to control how and where people can communicate with them. Traditional Top Level Domains (TLDs) use the DNS to return Address records or IP addresses that are used to reach websites or send email.

In the case of a website, when users look up netim.com, their device queries the DNS for netim.com's IP address (the Address record). The DNS returns the IP address associated with netim.com and the device uses the IP address to locate and view the netim.com website. All existing Top Level Domains use the DNS in this traditional way. However, the .tel does not communicate with web content or email -- it enables communication with people. It therefore requires an approach to storing contact information directly in the DNS for which Address records are inappropriate, since an Address record cannot identify a phone number or a VoIP service address.

The .tel will allow contact information to be stored directly in the DNS so that when a device performs a query for a .tel domain (i.e., AdamSmith.tel), the DNS will not respond with an Address record, rather it will return the contact information directly to the device, which enables the click-to-communicate functionality.
All your contact information centralised on one single location
What characterises the .tel domain names is that they fulfill a specific function: they are the contact point for all your current contact information. Such as e.g.: address, phone (vast of gsm), fax, VOIP / Skype, sms, E-mail, Instant Messengers (bvb msn, icq, …), Linkedin, Facebook, Hyves, Ebay account, Google maps, ... ...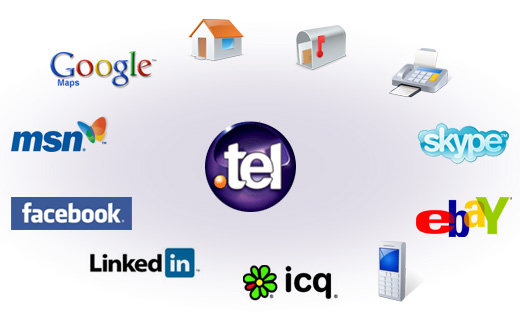 This way, those who need to contact you will only have to enter your .tel domain name in order to check which contact method is the best to reach you at that very moment. However it is not possible to place a website at the address of your .tel domain name because it benefits for a webpage where your contact's detail will be published.